"Courage does not always roar. Sometimes courage is the quiet voice at the end of the day saying, I will try again tomorrow"
Mary Ann Radmacher
Counselling & Psychotherapy in Cottingham
                                              Our mental health is every bit as important as our physical health and deserves just as much care and attention.
Walk and Talk Therapy

I have recently introduced Walk and Talk Therapy for clients at The Burrow.  It has become increasingly popular, particularly since the outbreak of Covid, to be outdoors. Many of us are experiencing the benefits of the outdoors in our everyday lives and this can be equally true in therapy.
When my own therapist offered therapy to me outdoors several years ago I was intrigued.  We spent several months walking together on the East Yorkshire Wolds behind her office, in all weathers, over several seasons. I discovered, in doing this, that that I felt calmer, less stressed, and that having my booted feet on the soil left me grounded, in the literal as well as psychological sense of the word. 
Research has shown that physical activity can improve peoples' mental and physical health. It has also been shown to reduce levels of depression and anxiety. Anecdotally this was certainly true for me.
How does Walk and Talk Therapy work in practice?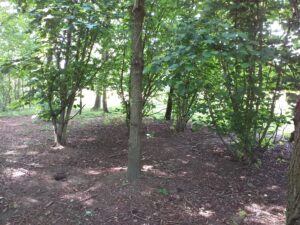 Different therapists may approach this in other ways to me, as there are many different types of Walk and Talk therapy, just as there are talking therapies. At The Burrow I simply offer therapy outdoors, so pretty much what the title says, walking and talking outdoors.
I can offer Walk and Talk therapy to clients who have had at least 2 indoor sessions at The Burrow. This is to allow time for us to get to know each other a little, and to determine the best way forward for you as an individual. It might be that you initially choose to work outdoors with me, but then change your mind, that is absolutely okay to do. You may only want to work outdoors in fine weather, and that is also okay. Generally, so long as weather appropriate foot wear and outdoor clothing is worn, outdoor therapy can go ahead if you wish it to.
Where do we walk?
Currently I offer one main venue, the King George Playing fields in Cottingham and Wildlife Area beyond that.  It offers open field and woodland walks, on relatively flat ground that is easily accessible for walkers most of the year round. During drier weather most of the area is accessible to wheelchair users, though that would need assessment by individual clients before going ahead.
You do not need to be super fit, I am certainly not that! Walking, and talking, is at your own pace, (well, actually the walking is probably at my pace as I am a slow walker!). There are benches that can be used to sit dotted around the park if needed. The circuit around the park can take up to an hour to walk slowly, particularly if stopping to admire the wildlife or scenery
There are some differences to indoor working.
One of the obvious differences being that this is outdoors, therefore not private. We may see and pass other people, dog walkers for example.  It is possible we may pass people that you or I know. But generally, from my own experience of outdoor therapy, the reports of other therapists, and my experience of this particular space, what is said between two people walking is not usually overheard.
Generally most people benefit from outdoor therapy, even if it's only an occasional session. There is something, almost wordless at times, about the experience of being outside and connected nature. If outdoor Walk and talk therapy is something you are interested in doing you can get in contact with me via the contact page.
To arrange to speak to me and/or to book an appointment, please contact me via the contact form, or by leaving a message on my phone: 07598 237236. I aim to respond to messages within 24 hours.